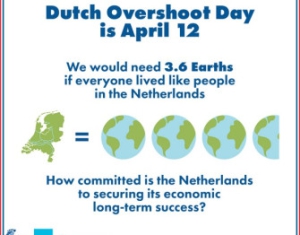 12 april 2022―Vandaag is het Dutch Overshoot Day: De dag waarop Earth Overshoot Day zou plaatsvinden als iedereen in de wereld zou leven zoals wij dat in Nederland doen. Helaas is dit absoluut geen feestdag, maar een negatieve trend, gezien het feit dat Overshoot Day ieder jaar steeds eerder valt. Het betekent namelijk dat we tussen 1 januari en 12 april 2022 precies net zoveel grondstoffen hebben gebruikt als de Aarde in een heel jaar kan regenereren. Waarom scoort Nederland zo hoog en wat kunnen we doen om er iets aan te veranderen?  
Een onderzoek op basis van de laatste data van de National Footprint and Biocapacity Accounts, gepubliceerd door de Footprint Data Foundation in samenwerking met Global Footprint Network en York University, Toronto, liegt er niet om. Als iedereen zou leven zoals de gemiddelde Nederlandse inwoner, zouden we 3,6 keer de bio-capaciteit van de Aarde nodig hebben. Als we echter alleen naar de oppervlakte van Nederland kijken, is dit probleem nog veel acuter van aard. De gemiddelde Nederlander heeft namelijk maar liefst 7,3 keer de capaciteit van Nederland nodig om aan hun levensstandaard te kunnen voldoen. Hierdoor hebben we als land onze 'nationale overshoot' dus al in minder dan 100 dagen bereikt, terwijl we het eigenlijk een jaar met de capaciteit hadden moeten volhouden.  
Alleen al voor onze voedselvoorziening is meer dan 2,4 keer de gehele bio-capaciteit van Nederland nodig. Dit is natuurlijk niet mogelijk en daarom is de afhankelijkheid van het buitenland voor Nederland erg groot: slechts 22% van ons voedsel komt van eigen bodem, de overige 78% wordt geïmporteerd. Die afhankelijkheid brengt, zeker in deze tijden, het nodige gevaar met zich mee.  
"Het negeren van de onzekerheid over de hulpbronnen in ons land vormt een enorm, structureel risico. De inval in Oekraïne heeft een wereldwijde voedselschok teweeggebracht en een toch al onzekere energiemarkt op zijn kop gezet", aldus Ben Valk, Global Head of Food & Argiculture partnerships van de Rabobank. De oorlog in Oekraïne heeft duidelijk gemaakt dat de afhankelijkheid van hulpbronnen een groeiend politiek en economisch risico vormt voor landen, steden en bedrijven. Deze risico's zullen alleen maar blijven toenemen naarmate de ecologische overshoot voortduurt. De enige manier om dit tegen te gaan, is door ons voedselpatroon en -systeem te verduurzamen en meer zelfvoorzienend te worden. 
We kunnen de Overshoot Day terugdringen als we onze energiesystemen fossielvrij maken, switchen naar een plantenrijk dieet, overtollige CO2 vastleggen en gaan leven op een manier die minder hulpbronnen vergt. "Dit vereist circulariteit, ook in onze voedselsystemen" voegt Dr. Hannah van Zanten, WUR, directeur van Food4Future, een samenwerking van Stichting AVINA, Wageningen Universiteit, Global Footprint Network, en het Onderzoeksinstituut Biologische Landbouw (FiBL) toe. 
Gelukkig zijn er tegenwoordig steeds meer tools te vinden die consumenten helpen hun individuele verbruik in kaart te brengen. Je kan bijvoorbeeld een verandering teweegbrengen door uit te vinden wat jouw eigen ecologische footprint is op de Ecological Footprint Calculator of via de Voetafdruktest van het WWF. Bij deze testen beantwoord je een selectie vragen over je levensstijl die jou inzicht geven in hoeveel energie je verbruikt en wat je het beste kunt doen om deze gewoontes te verduurzamen. Iedere verandering is er tenslotte één die helpt de druk op de Aarde te verlichten!  
Benieuwd naar verdere uitleg over de Overshoot Day en hoe deze tot stand gekomen is? Kijk dan vooral naar dit webinar voor meer informatie!