Committeer je aan het Earth Charter en kom in actie
Earth Charter Internationaal (ECI) is in november van start gegaan met een campagne om het Earth Charter te bekrachtigen. Misschien ben je al een 'endorser'? Dat kan als individu en als organisatie. Nu kan je je ook nog via de ECI website aan het Earth Charter commiteren. Een statement van belang, juist nu. Laat zien dat je kiest voor een betere wereld, beter in hoe we met de Aarde omgaan, en met elkaar.
De COVID-19 pandemie heeft ervoor gezorgd dat we stil staan en ons 'normale' leven opnieuw bekijken. En belangrijker nog, het heeft ons laten zien dat het werkelijk mogelijk is om stil te staan en te veranderen. Het heeft ons laten zien dat er ruimte is voor een 'beter normaal', waarin we minder consumeren, meer zorgen en beter leven.
Nu we naar de toekomst kijken hebben we een mogelijkheid ons te committeren aan dit nieuwe normaal dat zich kenmerkt door meer rechtvaardigheid, duurzaamheid en vrede.
Wat zijn de belemmeringen om te komen tot respect voor de natuur, mensenrechten, economische en sociale rechtvaardigheid en een cultuur van vrede? Dit is het moment om de belemmeringen om te zetten in uitdagingen en ons te committeren aan het vinden van oplossingen. SAMEN.
Dat begint met het omarmen van de integrale visie van het Earth Charter – het resultaat van een collectieve mondiale dialoog waarin de ethische basis is gelegd voor een betere samenleving wereldwijd. Een breed gedragen basis voor persoonlijke en collectieve verandering. Om het nieuwe normaal te realiseren, zullen we ons bewustzijn moeten omzetten in actie.
We kunnen in actie komen door de Earth Charter principes toe te passen in ons dagelijks leven, in ons werk en op school. We kunnen in actie komen door bruggen te bouwen en samen te werken en lokale en internationale initiatieven te nemen. We kunnen in actie komen door anderen te inspireren, mensen in jouw sfeer van invloed om ook in actie te komen en zich ook aan het Earth Charter te committeren. We kunnen gezamenlijk in actie komen door een collectieve bekrachtiging van het Earth Charter. Heb je het Earth Charter al eerder bekrachtigd, dan nodigen we je uit dit opnieuw te doen door de verklaring van commitment te ondertekenen.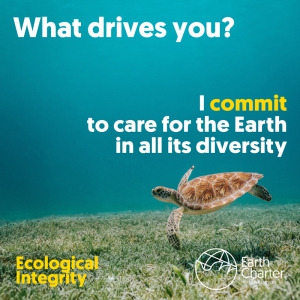 "Let ours be a time remembered for the awakening of a new reverence for life, the firm resolve to achieve sustainability, the quickening of the struggle for justice and peace, and the joyful celebration of life" (The Way Forward, Earth Charter)
Sluit je aan bij deze campagne, teken je commitment – als individu of als organisatie – en kom in actie voor een florerende Aarde.
Sluit je aan bij de mondiale beweging voor Rechtvaardigheid, Duurzaamheid en Vrede.
https://www.worldconnectors.nl/wp-content/uploads/I-commit-care-for-the-Earth-in-all-its-diversity-turtle-1.jpg
800
800
Alide Roerink
http://www.worldconnectors.nl/wp-content/uploads/wc_logo_smallformat.png
Alide Roerink
2020-11-16 13:03:33
2020-12-07 22:54:34
Committeer je aan het Earth Charter en kom in actie